Equipment Laboratory of ILEXIA :
Our independence ensure a perfect transparency of the solutions we offer. After studying your requirements we will give you an expert report suggesting areas for improvement.
We propose an audit of your telephony infrastructure in order to highlight the strengths and weaknesses of your installations. We establish a fully independent expertise to bring you the best prospects for your needs in IP Telephony.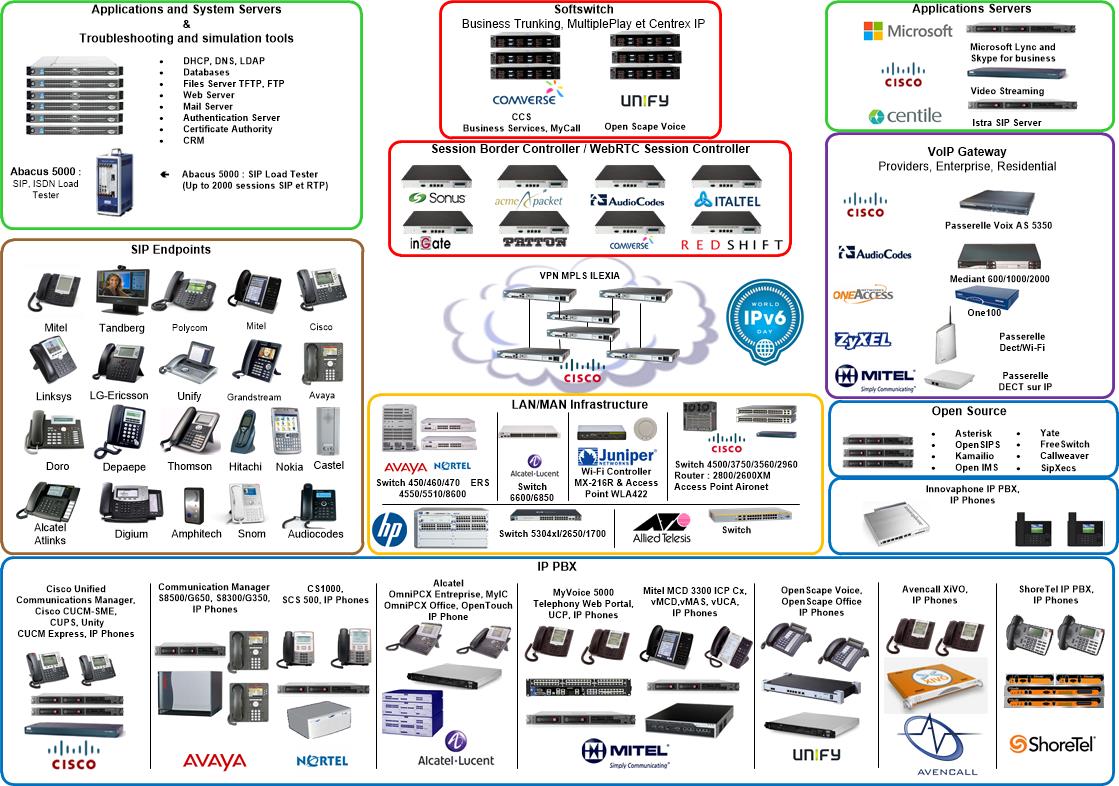 Click image to enlarge

Communication solution in VoIP (IP PBX, SIP Server, Call Center):

MyVoice 5000, TWP, UCP

MyVoice 400

Alcatel OmniPCX Entreprise

Alcatel OmniPCX Office

Avaya S8500/G650 et S8300B/G350 Communication Manager

Avencall XIVO

Cisco Unified Communication Manager, Cisco CUCM-SME, Unity, CUPS, CUCM Express

Cisco UC500

Cisco VideoStreaming

Innovaphone PBX

FreeSwitch

Microsoft Skype for Business, Lync 2013, MOCS 2007 R2

Mitel MCD, vMCD

Nortel Communication Server 1000

Nortel BCM 50

Shoretel Voice Switch, Contact Center

Unify OpenScape Business, Hipath 2030, 3300 et 8000

3CX

Asterisk

SIP Express Router

Tiptel 8000 Business

Nortel Symposium Call Center

Centile Istra

Equipment operators :

Bouygues Business Synchro Centrex

SFR Business Pack

Comverse Softswitch CCS (IMS ready)

Unify Open Scape Voice 8000

Session Border Controller Acme Packet Net-Net

Session Border Controller Audiocodes

Session Border Controller Comverse NeoXBC

Session Border Controller Italtel

Session Border Controller Patton

Session Border Controller SIP INGATE 120

Session Border Controller Sonus / NET

Gateway Cisco AS5350

Gateway Audiocodes

Server farm :

Certification Authority

DHCP, DNS, Active Directory Server

IP management Server Alcatel-Lucent QIP

Data Base Server SQL/LDAP

Authentification Server Radius

File Server FTP / TFTP

XML Server

Web Server

Video Server Cisco IP/TV 3424

VPN (SSL) Server - NAT VoIP/Firewall-Nortel Alteon

VPN (IPSec) Server - Nortel Contivity

Unified messaging server Unify / Cycos

Unified messaging server Exchange 2013, 2007

IP terminals (SIP/MGCP/H.323) :

Mitel Phones

Alcatel Home & Business Phone by Atlinks Phones

Amphitech Intercom

Avaya Phones

Audiocodes ATA and phones

Castel Intercom

Cisco ATA and Phones

Doro Phones

Depaepe Phones

GrandStream Phones

Hitachi (WiFi) Phones

Lg-Ericsson Phones

Linksys Phones

Nokia (WiFi/UMTS) Phones

Polycom Phones

Shoretel Phones

Unify Phones

Snom Phones

Thomson Phones

Tandberg Phones

Yealink Phones

Zyxel Phones

Ip terminals for Microsoft Lync (Mitel, Audiocodes, Snom)

Infrastructure :

Allied Telesis Switch

Alcatel-Lucent OmniSwitch 6850 PoE Switch

Cisco Systems Catalyst 4500 Switch

Cisco Systems Catalyst 3500 XL, 3560 & 3750 PoE Switch

Cisco Systems 2600 & 2800 Router

HP ProCurve 1700, 2650 & 5304 Switch

Nortel Networks BayStack 450, 460 & 470 Switch

Nortel Networks ERS 4550, 5510 & 8600 Switch and Router

QoS Controler Streamcore StreamGroomers (SG 420) & StreamGroomer Manager (SGM)

WiFi Controler Juniper MX-216R & bornes WLA422

Wi-Fi access point Cisco Systems Aironet AP1100 & AP1200

Gateway DECT/IP Mitel

Gateway DECT/Wi-Fi Zyxel

Gateway VPN Nortel Networks Contivity 600

Fire-wall Cisco Systems ASA 5500

Fire-wall Nortel Networks Alteon 5105 & 5109

Protocol Analyzer / Simulator :

VoIP Protocols analyzer (H.323, SIP, MGCP)

Clarinet RNIS/QSIG

Spirent Abacus 5000 : trafic generator

(ISUP, RNIS, QSIG, H.323, SIP, MGCP, RTP, G.711, G.729,G.722,...)

Audit QoS-Vivinet Assessor-Chariot

 

Streamcore StreamGroomers : optimisation WAN, Qos supervision reporting

Streamcore SGM